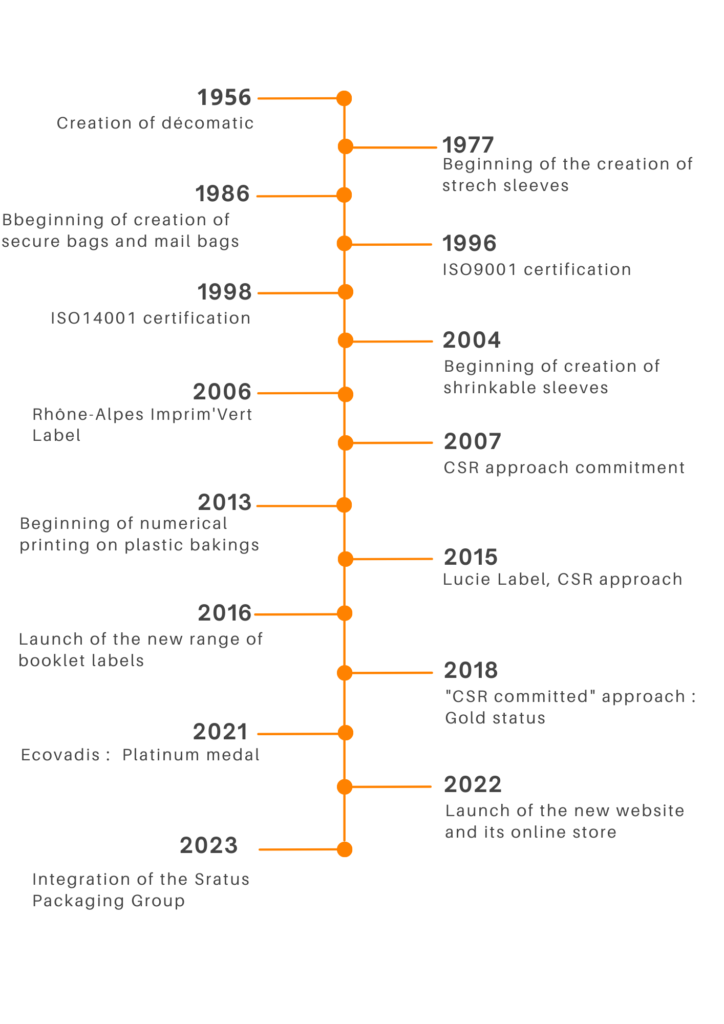 1956  : Creation of the company specialising in the design and production of advertising packaging
1972: Packaging Oscar for clothes covers on hangers
1977: Start of the "Stretch labelling sleeves" activity
1986: Start of the "Secured envelopes and mailing bags" activity
03/94: Transformation into a company with a supervisory board and management board with a capital of 320 143 €.
12/94 : Approval from the Technical Research Department of La Poste for the manufacture of secured envelopes for the transport of declared value
09/95: Founding member of Recyfilm. Affiliated shareholder of Valorplast
01/96: ISO 9002 certification for the whole activity
02/96: Start of the ISO 14001 environmental approach
04/97: Quality supplier of La Poste
10/97: Oscar at the Europack 97 packaging exhibition for the sleeve on polystyrene box
09/98: ISO 14001 Environmental Management certification
09/99: 1999 Nord-Isère Environment Trophy
11/00: Voluntary and total elimination of aqueous discharges, above and beyond regulatory requirements, awarded by « Agence de l'eau »
12/01: ISO 9001 version 2000 certification
07/04: Membership of the Groupement Employeur de l'Isère (G.E.M. 38)
10/04: Start-up of the "Shrink sleeves" activity
07/05: Sale of the "Advertising bags" activity
09/05: ISO 14001 certification, version 2004
10/05: Finalist in the "Trophée environnement Nord-Isère 2005" selection
10/05: Launch of the "Pocket sleeve®".
06/06: Membership of "Sup'Air", air quality observatory
10/06: "Imprim'Vert Rhône Alpes" brand
09/07: Commitment to a CSR (Social and Environmental Responsibility) approach concerning all all stakeholders, in order to strengthen actions contributing to sustainable development
10/07: Renewal of ISO 9001 certification
01/08: Renewal of ISO 14001 certification
10/08: Adoption of the " Dupont Cyrel Digital Imager / Cyrel-FAST " technology, thermal engraving of flexo printing plates without solvents, which no longer requires the use of photo chemicals thanks to the laser beam
11/08: Launch of the "Book sleeve®".
01/09: Realization of the 1st carbon assessment of the company
09/09: Membership of the Eco-design & Life Cycle Management Pole of the CCI St-Etienne – Montbrison
07/11: Accessibility work on the site for the disabled
10/11: Launch of the Full-body sleeve for drums
03/13: Start of digital printing on plastic supports
02/14 : Innovative Approach Trophy, CCI Nord Isère
09/15: decomatic obtains the "Lucie" label, a Corporate Social Responsibility initiative
01/16: Launch of the production of the new range of booklet labels
2016-2017: "Energy saving" plan
03/17: Commercial development of the "Easy Access" sleeve
09/18: "Committed to CSR" initiative, gold status
02/2019: Start of digital printing label production
2020: Variable data printing on the entire label range
2021 : "CSR Commitment", Platinum status, top 1%.