Medical sample bags
New: use the Décomatic biological sample bag to transport your PCR tests and other medical samples in complete security. In a municipal or hospital medical analysis laboratory, protect your PCR tests and biological samples with a robust and traceable logistics solution.
Customise the bag for your organisation and simplify PCR test transit.
The customizable, secure and approved biological samples bag
Resistant and waterproof, the medical analysis and risky biological specimen transport bag is ideal for storing and moving bone tissue, femoral heads, medical specimens, biological analyzes and PCR tests from hospital to laboratory.
The most practical medical analysis transport bag for you
From catalog or produced on demand, the sampling bag is designed to suit your needs. Fully customizable, the biological samples double bag:
Is availiable in several dimensions
Allows the printing of personalized communications such as instructions for use, methodology or contact details of the medical analysis laboratory
Guarantees perfect traceability with unique numbering and barcode
Comes with or without a kangaroo pocket to slip in your documents
Essential to the medical and biological fields, the sample bag is also suitable for the agricultural sector and bio-hazard. Compliant and recognizable, it reassures nurses when receiving and processing content.
The sample envelope meets multiple needs:
Protection of samples
Identification of containers
Sample confidentiality
Traceability during the transit
Ease of use by and for laboratories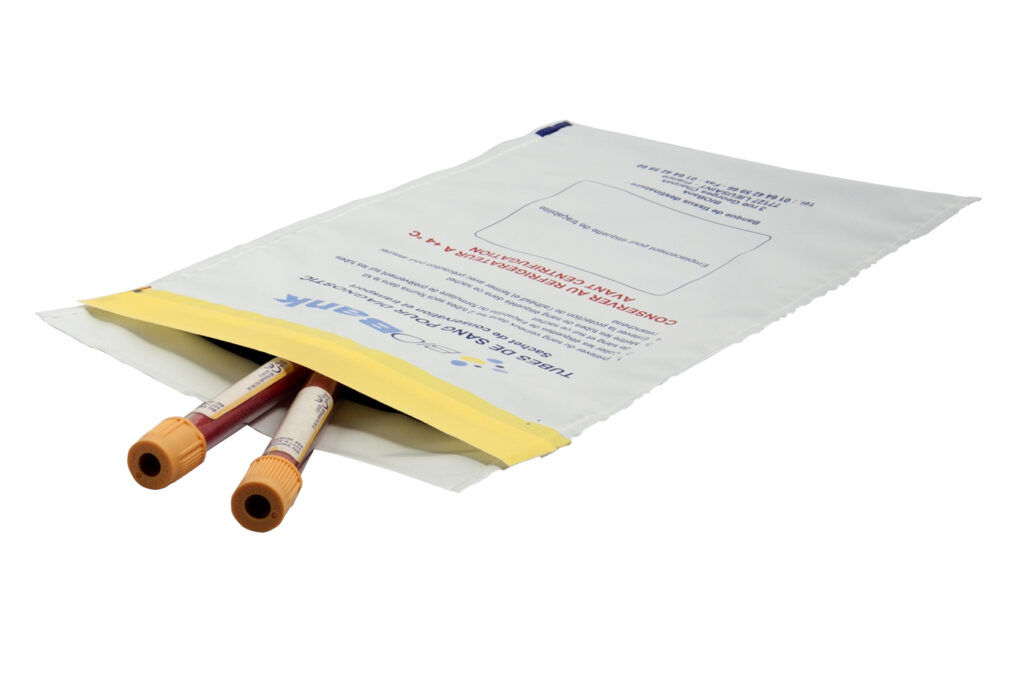 Each biological samples double bag designed by decomatic is UN3373 approved for transport and complies with ISO 15189 certification. It is moved securely and is very easy to use, from opening to closing.
Think of the biological sample bag for the collection and transport of PCR tests
Choose a high-performance biological sample bag
decomatic develops different types of sample bags, from the double bag to the P620 approved bag.
The biological sample bag aligns with several criteria:
Information with its front pocket which houses documents
Confidentiality using its opaque material
Quick and easy closing
Ease of use via a tool-less opening
Sealing using robust welds
Tamper-evident thanks to the resistant adhesive closure
Protect your biological and medical samples
Our sample bag has a simple opening system, to save you time in the laboratory, and secure to ensure transport in accordance with sanitary requirements. It is bordered by an opening primer present on each side in order to guarantee a total waterproofness of the bag.
See other solutions for your industry
What is the composition of the biological samples bag?
In line with the needs of medical analysis laboratories and hospitals, the pouch is intended for the transport of category B biological materials. The second sealed packaging is made of ultra-resistant high density polyethylene.
The characteristics of the bag for carrying medical and biological analyzes:
A 30 micron transparent polyethylene
A standard pre-print or an application of the BIOHAZARD logo
A neutral version or with a red background. Other colors are available to order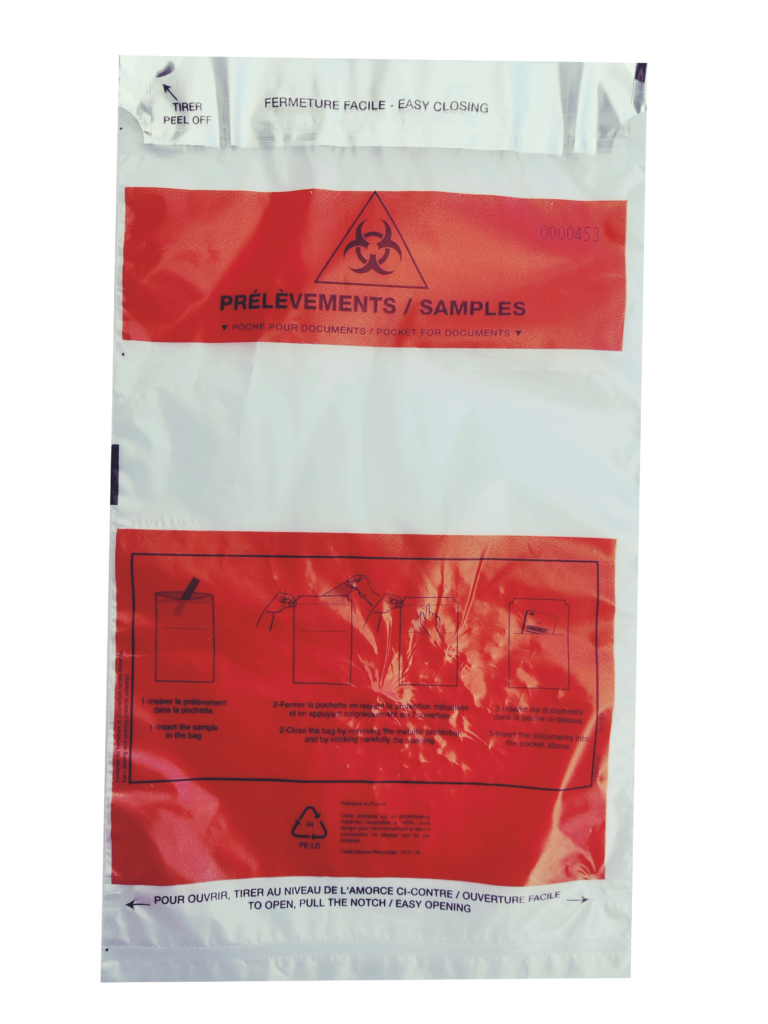 ---
Discover our other medical envelope