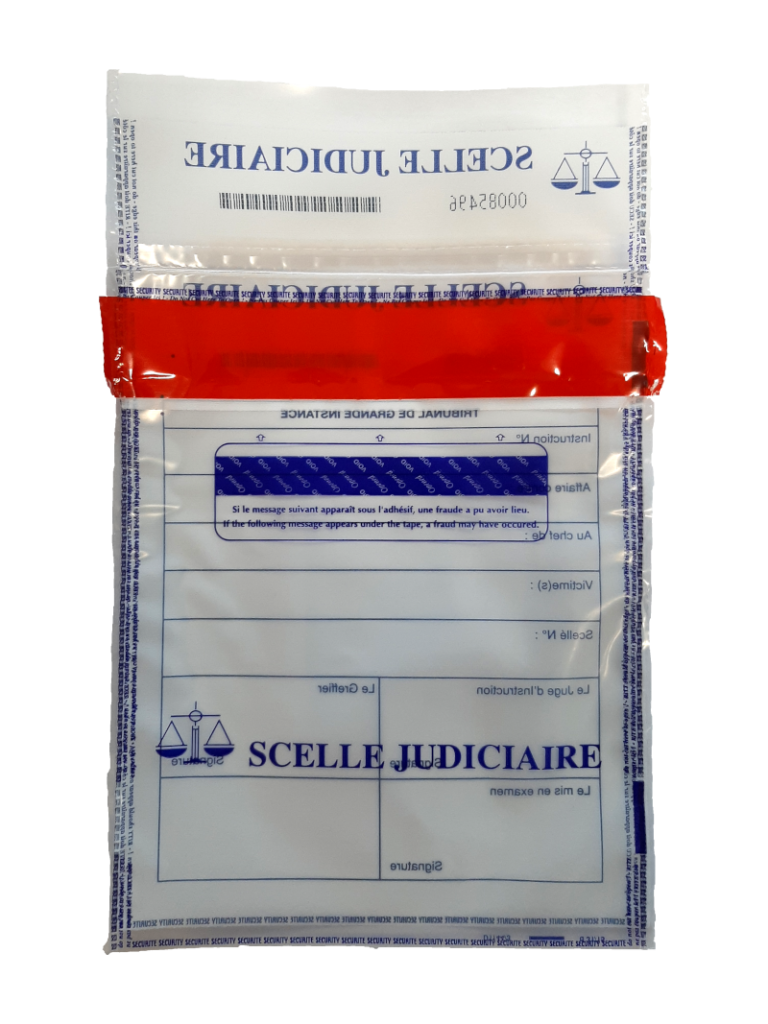 Tamper-proof secure envelopes
Effective and confidential, the secure envelope combines the properties of mailing envelopes and cash transportation bags. To protect the sensitivity of documents transported or stored, decomatic includes a number of high-security features in its security envelopes:
Tamper-proof adhesive strips
Robust and strong materials
Welds for optimum strength
Identification numbering
The tamper-proof secure envelope for controlled procedures
Thanks to its excellent properties, the security envelope has become essential in areas where security and confidentiality are sought :
Research: sensitive data
Justice: legal seals
Diplomacy: confidential documents
Industry: calls for tender, business intelligence
Education: competitions, examinations
Similarly to the secure sealed bags used in financial institutions or certain State departments, the tamper-proof envelope protects you from potential complaints by the addressee. Whether transit is carried out in-house or by an express carrier, the secure envelope meets security and traceability needs.
What can be put in a secure envelope ?
Particularly useful for transporting and storing sensitive items or in the context of official procedures, the tamper-proof envelope protects the contents :
Holiday vouchers
Service Employment Cheques – CESU
Securities
Luncheon vouchers
Confidential documents
Spare parts
The tamper-proof envelope as a legal sealed bag
decomatic has widened its range of secure envelopes with the creation of "legal sealed" bags. They are extremely effective, and can be used for collecting and keeping evidence from a scene. The legal sealed bag is useful for :
Forensics services
The Gendarmerie
The Police
Research
Courts
Health
Diplomacy
Are you looking for security seal labels for your envelopes ? We really urge you to use legal sealed envelopes, as they guarantee the authenticity of items sent. They are easy to use and simplify the work of your teams.
The secure envelope, the essential solution for sensitive documents
The quality of tamper-proof secure envelopes
Your documents and items transported, stored or archived are secure in the tamper-proof envelope. It is robust and includes high-level anti-fraud features :
Tamper-proof and tamper-evident adhesive strip
Welds with security printing
Unique identification number
See other solutions for your sector of activity
The characteristics of tamper-proof secure envelopes
Décomatic offers you two models of security envelope : the high-security note bag and the Oberthur-approved high-security note bag.
The two models of note bag meet a number of criteria:
Material : co-extruded polyethylene (outside white / inside black).
Seal : high-security adhesive strip, tamper-evident against mechanical, chemical or thermal breach.
Security : security edge strips.
Printing : numbering and barcodes.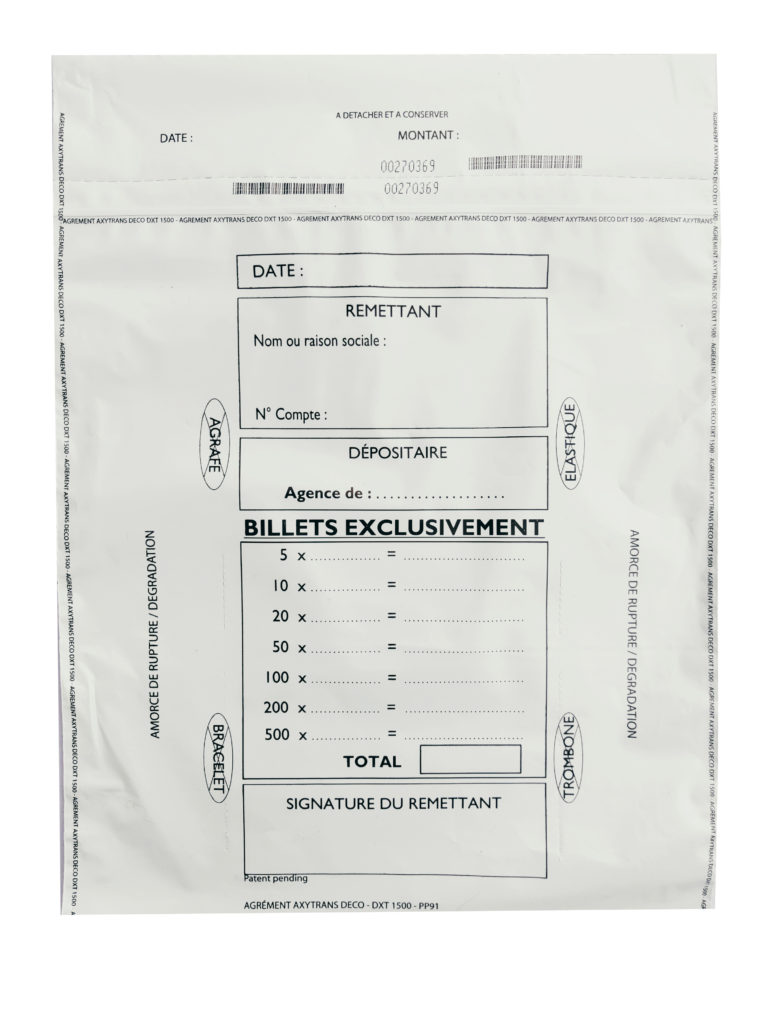 High-security note envelopes
Note bags are intended particularly for the handover and depositing of cash, banknotes and bank securities completely securely, thanks to their:
Thickness: 80 or 100 microns.
Legibility: they have a "Sender / Addressee / Content" box
Oberthur-approved high-security note envelopes
These models are designed for the transit of bank securities and notes by alternative money couriers, between branches or for handover to customers. They feature :
Thickness : 50 or 60 microns.
"Presenter / depository" boxes
Perforations in the material in accordance with order INTD1417377A issued by the French Ministry of the Interior.
Protect your documents and items throughout their transit, from transportation to archiving.
---
Find out about our other secure envelopes