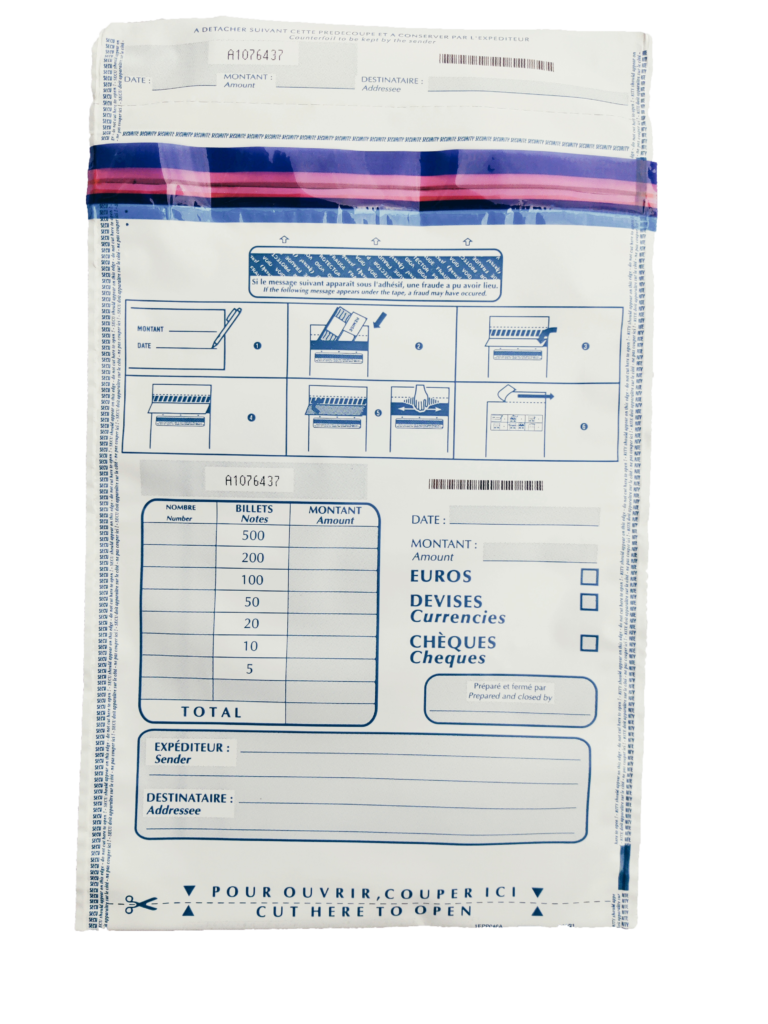 Money envelopes
Do you need to send money or very important documents? Then use our bank note envelope. Keep everything secure with our envelopes and bags – they are as strong as they are secure. Currency transport bags help you collect and count your banknotes and coins before and after transport.
Strong, tamper-evident envelope and pocket for banknotes
Used by banks, CITs, certification bodies or government agencies, the banknote bag meets all the criteria for a tamper-proof, traceable mailing solution.
Essential in the transport of money, the envelope and the bill bag are also part of alternative transport systems. The decomatic envelopes and bags are approved by the Ministry of the Interior in application of Decree No. 2000-376 relating to the transport of funds. Our exclusive ink smear system has proven its effectiveness in Axytrans and Oberthur containers.
Which model of coin transport bag to choose?
The coin bag for secure transport of coins, suitable for most systems and inviolable.
The envelope for banknotes to enhance your image as a resilient sending and storing solution.
Cash transport: opt for secure and resistant solutions
The banknote and coin bag: secure and compliant transport
Choose the banknote bag for its resistance
Collect up to 8kg of coins in a pouch! Our standard models collect between 5 and 8 kg of coins.
Do you need more? Think of our personalized envelopes, which collect up to 15 kg of change.
Choose the banknote bag for its closure
We have been manufacturing coin and valuables bags for over 30 years. Our PROTECTOR® brand, distributed throughout the banking world, aligns with everyone's security requirements. Our coin transport bags exist:
In transparent envelope for checks or bank bills
In secure opaque pocket for banknotes
With tamper-evident security adhesives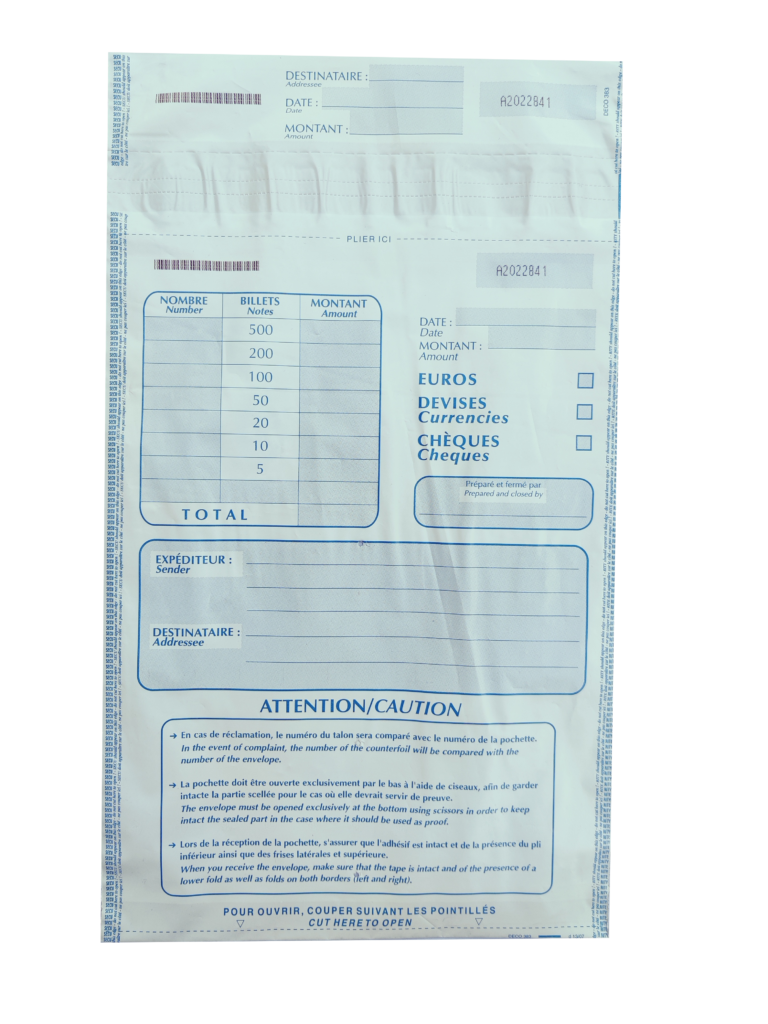 Choose the banknotes bag for its traceability
Our pouches are not only compatible with many cash transport systems, they are also customizable. The options are varied:
Multiple heels
Special bar codes
Security device
Perforation
Kangaroo pockets
Various formats
Single print
Do you need another modification?
Choose the banknotes bag for its security
When cash carriers or their customers use alternative solutions, such as AXYTRANS or SQS, they must have compatible secure bags.
In order to meet this specific demand and optimize the performance of the system, decomatic has doubled its bags, available with perforations or without perforations. These pouches, Axytrans and SQS approved, exist in standard or customizable version.
Improve their traceability and simplify delivery to the customer by sticking a carbonless bundle on the bill and change bag.
The long-distance transport envelope and its bundle
Use the long-distance transport envelope for its robustness
An alternative to the security bag exists: the mail envelope.
The banknote envelope is made from co-extruded polyethylene with a black interior and white exterior. Combine the readability of postal information with the confidentiality of content.
The mail envelope protects against: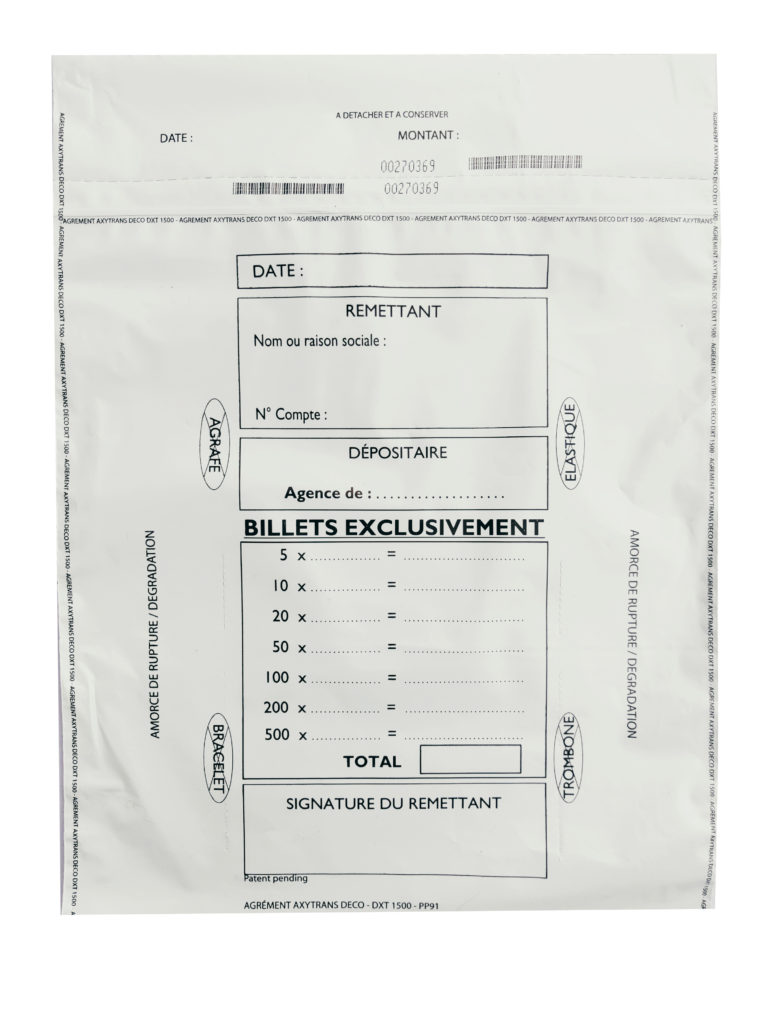 The envelope is not only a means of transport, it is also a vector of communication. Customizable, it can take your colors and its resistant material enhances the image of your structure.
Our standard envelopes can be enriched with:
The secure envelope and bag can be used with or without a self-adhesive bundle that applies in part or in whole to one side.
Use the bundle for easy reading
The bundle consists of 2 or 3 sheets. It acts as a receipt for the addressees.
The long distance envelope bundle indicates the content, source and destination of the content.
The bundle does not only comply with security requirements, it incorporates codes allowing automatic processing by automatic deposit machines.
décomatic offers you standard or tailor-made packages. The neutral version is enriched for:
Have several formats
Embed an impression
Present a barcode
Display numbering
Change sheet colors
See other solutions for your industry
What do the sample cash envelopes include?
The transit of values ​​is simplified thanks to the different models of bags: the envelope for the transport of coins, the bag for transporting coins and various effects, the pocket with handles and the check envelope.
All the transport bags are secure: they close with hot-melt glue, which has a strong adhesive power. Standardized, they include numbering, standard preprint to fill out and barcodes.
The coin bag
Is designed for the packaging and transport of metallic money.
Is available in 2 capacities: 5kg or 8kg.
Is made of transparent high resistance 100 or 130 microns polyethylene
Has safety cutouts.
The cash and various effects bag
Is made from 50 micron coextruded polyethylene.
The bag with handle / grouping
Ends on a carrying handle.
Is made of 100 micron coextruded polyethylene.
The check bag
Is made of 70 micron transparent polyethylene
---
Discover our other secure envelopes