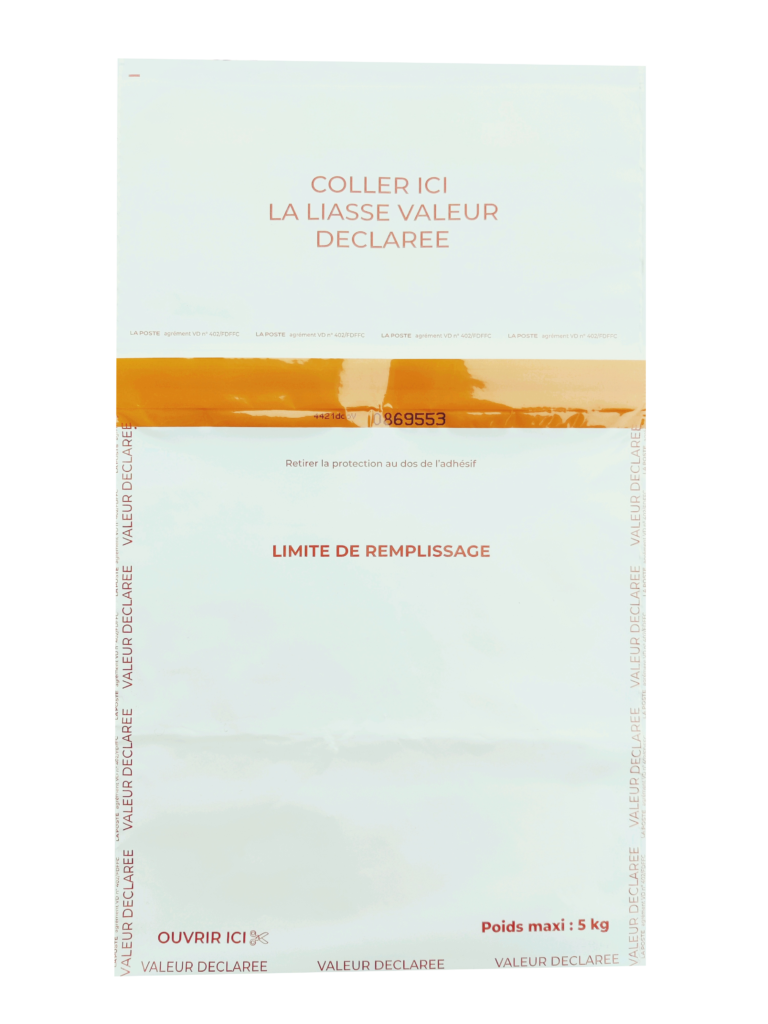 Declared value envelopes
The Declared Value bag is for sending valuable small goods and correspondence. Small but valuable products and items are protected during transport by this standard-compliant secure bag.
Robust, compliant and reassuring, the Declared Value envelope helps create a relationship of confidence with your customers, your suppliers and administrative bodies. It helps you improve the quality of your relationship with your customers and optimise your financial management.
The Declared Value pouch: a transport worthy of its contents
decomatic developed declared value envelopes to send sensitive items and documents of commercial or intellectual value. A declared value envelope can contain :
Valuable items such as precious stones, broken and unbroken jewellery, branded accessories and clothing, watches, bags, etc.
Official documents such as bearer vouchers, luncheon vouchers, holiday vouchers, bearer vouchers, collector coins, gift vouchers, etc.
The declared value envelope manufactured by decomatic is approved by La Poste and is used in its network.
A serene transport
Do you want to send a piece of jewelry in an envelope? Choosing a declared value bag means having peace of mind when sending your precious items. Untearable and waterproof, the declared value envelope is effective.
THE 3 ADVANTAGES OF THE DECLARED VALUE POUCH: :
Security : the envelope is only given to the addressee or his representative against signature. In addition, the sender receives proof of posting before sending.
Serenity : in the event of loss or damage, the sender is reimbursed for the amount declared during the deposit.
Traceability : the sender follows the delivery of his shipment 24/7.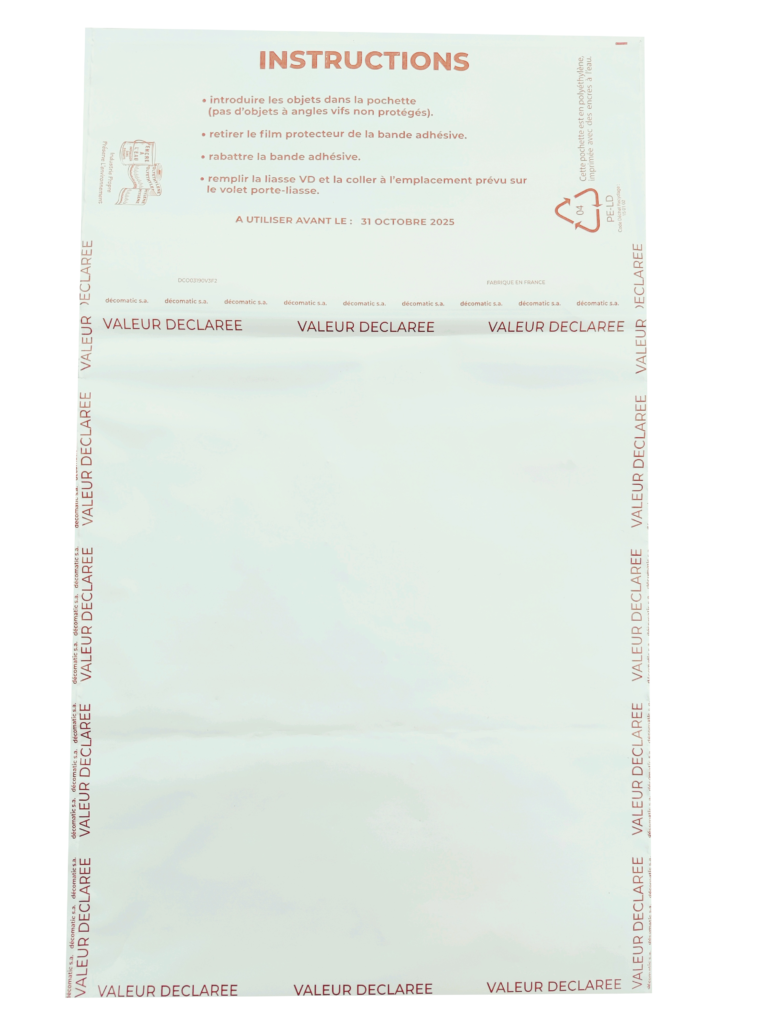 When sending your Declared Value envelope, you can request two services:
The notice of receipt in order to keep a proof of delivery of your shipment.
Cash on delivery (COD) so that your mail is only delivered to the recipient in exchange for payment. This service is only available in France.
Capacity and destinations of the declared value bag
The Declared Value envelope can contain sensitive items worth between €0 and €5000. Compensation varies depending on the countries to which the envelope is sent.
Its capacities differ depending on the country of destination:
In France, the pouch can hold 5kgs of valuables
Internationally, the maximum weight allowed is 2kgs.
Doubly secure routing
In addition to its declared value envelope, decomatic creates a rigid box. Compatible with the envelope, it surrounds sensitive objects and keeps them in good place during transport and storage. It simply slips into the envelope in the correct size.
Available in a range of sizes and materials, it provides extra protection for fragile items.
Choose the right medium for your shipments of sensitive objects and documents: the Declared Value pouch
The easy-to-use Declared Value bag
Our declared envelopes are available in standard or custom designs.
The declared value envelope in accordance with La Poste standards
The Declared Value envelope is not only an asset for its solid material and traceability, it is particularly useful as it integrates with the national delivery service, La Poste.
Since 1994, La Poste has been offering secure envelopes in order to improve its performance and the security of shipments. The Technical Research Department has granted decomatic an approval thanks to our ability to meet the specifications. Our Declared Value envelopes are compliant and can be used in La Poste's network.
Our Declared Value envelopes, referenced 402/ECEEC, are intended to be used only within the framework of the "Declared Value" service of La Poste and must respect the constraints of the carrier.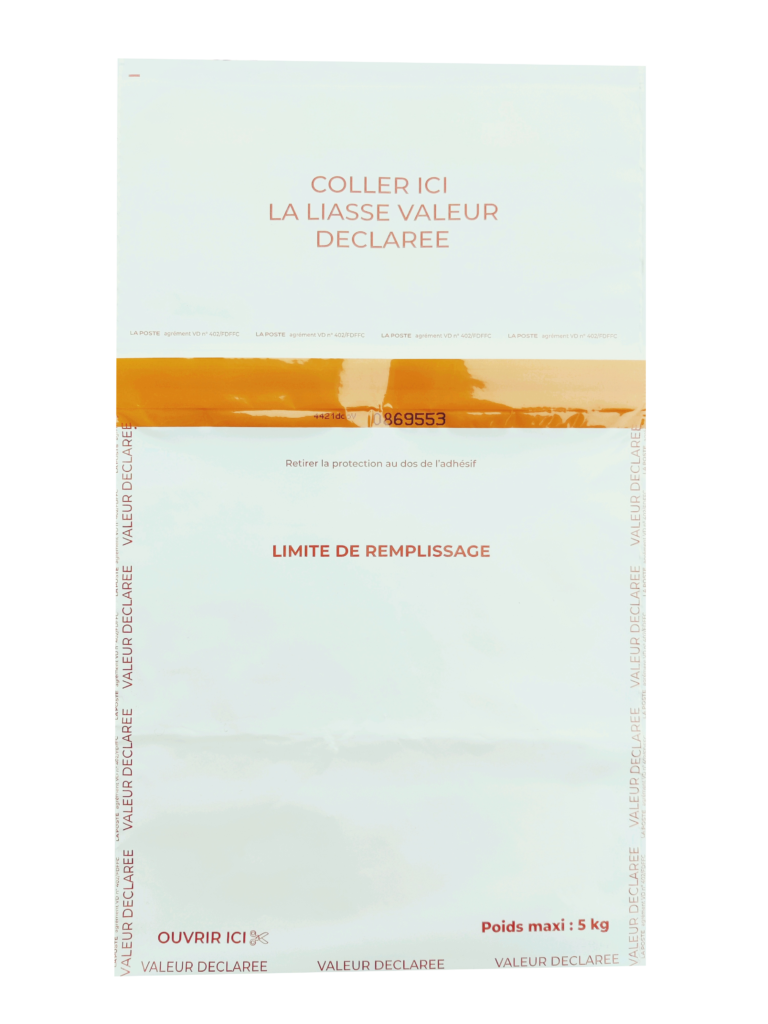 The Declared Value envelope has several closing options
When using the decomatic Declared Value envelope, there are several ways to seal it:
Through one or more seals with a special imprint or mark;
With 3M Scotch Tape type 820 displaying your personal brand through the heat seal.
When you send your important items and documents around the world, via International Declared Value, you may, in some cases, ship without a seal. At that point, glue or tape your envelopes and display your signature with a distinctive mark or imprint.
The declared value envelope and formalities
When you send your envelopes to countries outside the European Union or overseas, you are required to present documents relating to customs and / or tax formalities proving your compliance with applicable regulations.
Remember, formalities vary according to the country of destination.
See other solutions for your industry
The Declared Value envelope and its plastic box
The Declared Value pouch and its box are as resistant as they are secure thanks to their solid materials and their specific features.
The declared value bag is:
Made of coextruded polyethylene (white exterior / black interior)
80 microns thick
Equipped with a booklet holder flap
Closed with an orange high security adhesive, specific to La Poste. It highlights attempts at mechanical, chemical or thermal break-in
Enriched with safety side strips
Numbered to be traceable
The rigid boxes compatible with declared value envelopes are:
Made of black polypropylene or white expanded polystyrene
For the protection of items shipped at Declared Value
Compatible with the envelopes dedicated to this service

The COC model is suitable for formats F1 to F5
Le modèle 5104 s'adapte aux formats F2 à F5

Reusable
For all your valuable objects and documents, secure the transit with an adapted and easy to use system.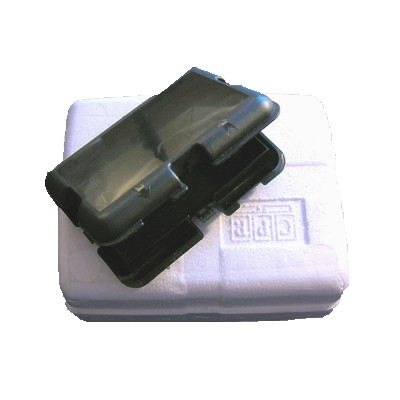 ---
Discover our other secure envelopes