Production line
The decomatic production chain revolves around 3 axes: computer graphics, printing and shaping. It allows digital printing or flexography on different backings, to offer you an impactful and resistant packaging in restrictive environments.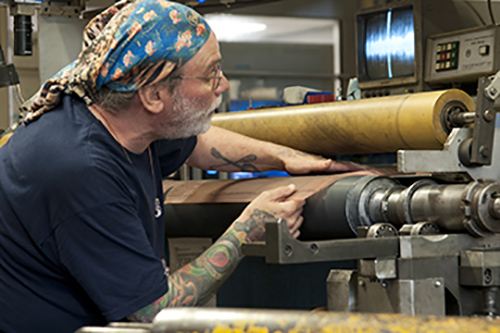 Prepress
Infography : creation of decoration and preparation to the process of numerical or flexographical printing
A well-printed product relies above all on the choice of pictures and texts adapted to the process of printing used. Flexography does not escape from this rule. That is why decomatic has an infography service in order to realize and/or optimize your creations.
Mastering most of graphism softwares (Illustrator, Photoshop, Quark, Xpress, In Design…) our creation service listens to your needs to offer improvements and changes in adequation with the validated priting method.
After the preparatory work, we provide our customers with printing vouchers, Epson prints screened and calibrated to our printing specifications. It is this validated document that then follows the order during the next production phase.
Cliché making : a solvent-free process for engraving
With its integrated laser plate engraving system, decomatic produces flexographic printing at the cutting edge of environmental concerns, production quality and responsiveness.
Using the Dupont Cyrel® Digital Imager system combining digital flow and laser technology, decomatic reduces its waste: there are no more negative films or engraving solvents!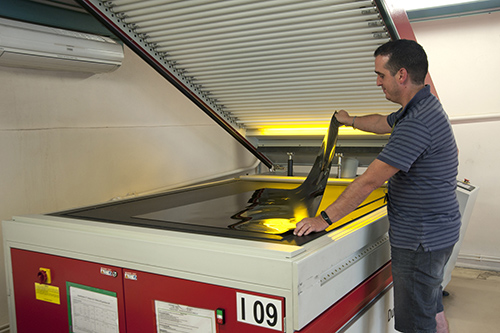 Impression
With an important number of digital printers and a very polyvalent flexography service, decomatic can print on paper ou plastic backing and on plastic films and sheaths no matter their size (small or large).
Whatever the medium (paper, PP, PE, PVC, PET, PLA and other plastic materials), we can print in four-color process, or in a conventional process up to 9 colors.
Small and medium series
The production of small and medium series require flexibility and responsiveness which is a main strengh of decomatic.
ENGRAVING – TRANSFORMATION
Lamination
According to your needs, we can realize lamination of different materials (bonding of two plastic films). This operation gives the films new properties which are adapted to the customer use in some severe environments :
Mechanichal resistance (clashes, scratches)
Printing resistance to chemical agressions
Thermal or UV barriers
Transformation : a particular know-how
Thanks to tailor-made machines built by decomatic to fulfill specific production needs, decomatic has acquired a certain expertise and know-how in the realization of sleeves and envelopes. This ensures our customers to always have a very competent technicl interlocutor and force of proposal in front of them.
---